April has come and gone and May looks to be even more exciting. We were able to launch Version 1.1.0 BETA of Game Pencil Engine.  Now we are moving quite faster and with slightly less stress.
Just moved into a coworking space!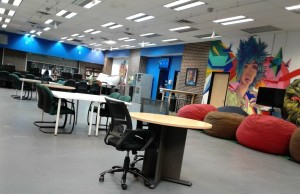 I love Chicago and the hustle and bustle and now I taken one more step to being able to work more productively and found a home outside of home to code in. After searching around I decided that Blue 1647 is a perfect match. In a great location with a very nice membership package it appears to be a win, win, win.
Game Pencil Engine 1.1.1 almost here!

Version 1.1.1 is slated to launch very soon for Game Pencil. This update will come with many bug fixes as well as an improved Search system for Code and Project Resources.  Feel free to preview the upcoming changelog.
The future of Game Pencil Engine
Game Pencil was always meant to be a professional low barrier to entry game engine. The goal is to reach as many platforms as possible with desktop, console and HTML5 taking priority. The possibility of mobile ports is being investigated, however; time will be used this year to expand to Xbox One, PlayStation 4 and the Nintendo Switch. Currently there is no public date in which for launch on these platforms, but they are all top priority.
Linux and OSX editors are coming soon. Although Versions 1.1.0 and 1.1.1 of the editor have only been released on Windows there was no compatibility broken in the editor since Version 1.0.03. Linux users can expect to download Version 1.1.2 in early summer, with OSX users receiving a copy shortly afterwards.
Also moving onward with Game Pencil the goal will be expand its user base, educational materials and improve online documentation. Every month the goal is to release new tutorials, examples, demos and/or updates for Game Pencil until a sufficient amount of resources are available for those interested in GPE can explore and learn to create great content.
What good will a game engine and editor be if no one knows how to use it. So there will be a serious devotion of time and resources to help expand and teach Game Pencil engine as well as possible in the coming months.
Now for a shift to more game development.

Games on the way, Agriduel as the premier farming game!
May 2017 marks the start of me focusing on coding and designing our gaming projects and IPs. With Game Pencil engine heading into its most stable days and professional polish it is time to fully utilize the software.
In the comings weeks I plan to start a weekly dev blog updating on the progress of Agriduel with videos, screenshots and stories. So please be on the lookout for the first entry soon.
Special Thanks
Thank you for your support throughout the years. It has been a trying time, but also a very good time for growth in work ethic, patience and self-education.
One person I can not simply thank enough is YellowAfterLife for his constant feedback, support and mentoring to make a better PawByte, product and wise choices.
Until next time.
Sincerely,
Nathan Hurde
*Hustle coffee cup taken by Garrhet Sampson[unsplash.com]. *